Social media platforms, social media tools, and social media teams make rapport building more efficient and more possible. Building rapport should be the goal of corporate and organizational social media engagement and online social networking.
Online, most people don't care about building intimate, persistent, and personal relationship with the brands in their life, they care about connecting, engaging, and getting the support they need in a pleasant, convenient, and timely manner.  The denizens of the online world are not from Mars.  Worldwide, they're just people — real people. Brands need to be reminded that they're real people and not just a disembodied voice.
The other night, I spent some time with some veterans of the war in Iraq and we were discussing what I did.  I went through the entire thing, from blogger outreach to Twitter customer support; from engaging in many languages over many countries to online crisis management.  All three of my friends responded the same way:
"That's all rapport building!"
While they did mention that they have all received copies of How to Win Friends & Influence People by Dale Carnegie in their rapport building courses, I don't believe that report-building is shallow and here's why.
Remember the old days when you needed a proper dial-up modem to connect to the Internet?  Remember the physical fax machine?  Well, when two machines connect via a modem, you can actually hear their small talk.  For about five seconds, in 1983, my computer and the BBS up the hill were screeching and squawking in order to build rapport.  They were negotiating their language, their cadence (throughput speed), their authority, and their credentials.  This was called a handshake:
A modem handshake is what occurs when the receiving modem answers the phone call and the two modems begin to communicate. Before anything else happens, the modems must evaluate the quality of the line, negotiate error control protocols and data compression that they can both recognize, and work out what the most suitable connection speed should be, based on the conditions. This process is called the handshake. If the modem's internal speaker is turned up, you'll hear the handshake as screeches, bells, and whistles. Once that has happened, the modems send data back and forth between the two computers. The modem that initiates the connection sends data in a lower frequency range and listens for the response in a higher range, corresponding to the recieving modem.
People are like this too.  This handshake is called building rapport — or finding common ground.  That's what Dale Carnegie was all about, too.
Being good a building rapport means that you're working on techniques and strategies to find common ground.  The way Mark Harrison, my CEO, does it is by learning lots of languages in order to make certain that there will always be one shared language.  I build rapport by keeping up with the news and by maintaining a broad number of interests — I can always find a shared experience or a shared topic (except sports — my Achilles heel).
What social media and online social networks allows one to do online is to burrow and connect directly to many, many, more people who are current, former, or future customers — brand curious or just bored.  The next step is finding ways to better connect.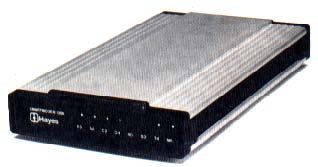 I remember that Hayes modems were the best modems because they supported the greatest number of protocols and standards.  It had the absolute best rapport with other modem.  It also had the best checksum and error-correction.  There was nothing that those Hayes modems couldn't negotiate: line noise, call waiting clicks — the works!  Hayes modems were the Dale Carnegies of the modem world.
Too many people consider Dale's rapport-building strategies to be inauthentic and shallow; however, the social handshake of building rapport is only the first step required towards either something deeper, more intimate, or — in most of the cases — the gateway to something very simple such as a sale, a customer support query, or a query for more information.
No matter if the intent of the conversation is to get to marriage or to get to the end of a tech support call, common ground, a common language, and a common culture before they can move forward. Authentic or not, this sort of "small talk"  is essential — and the main reason why this generous, charming, engaging, casual, and often playful and off-topic back and forth banter has been so maligned is because there are lots and lots of douchebags who are, themselves, false and inauthentic, who are doing it painfully badly on a daily basis.
If you learn how better to build rapport and you are, at the end of the day, not just emulating interest and pretending to be curious but actually truly engaged, interested, and curious, then books like How to Win Friends & Influence People can really be very helpful towards helping you understand how best to connect quickly and effectively on a daily basis with a broad variety of people in order to get to the place to take the next step towards a solution.